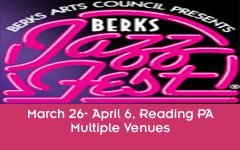 Photo Credit: Berks Arts Council



Berks Jazz Festival

While Berks's lineup doesn't quite match up with those of the last two featureds-- SFJAZZ and Mellon Jazz in Philly's spring seasons, respectively-- it only has 10 days to show its stuff. Within this span of time however, the festival manages to do pretty well for itself. There's enough variety (funk, blues and hip-hop) to keep casual fans entertained, as well as the right new-and-old mix (Regina Carter and Pat Martino, for example) when it comes to the event's advertised genre. Prices for the festival's various shows range from $0 to $49, depending on performance and seating location.

Headliners: Nancy Wilson, Buddy Guy, Chris Botti, Regina Carter, Rick Braun and Richard Elliot, Pat Martino, Jason Miles and DJ Logic, Euge Grooe and Alex Bugnon

Pat Martino Performing at Berks 2007



Video by DWillygtr.